Built-In Furniture:
Although strictly an oxymoron, since by definition "furniture" in the woodworking sense is generally understood to refer to movable pieces, the term built-in furniture may be taken to mean fixed architectural elements that provide the same function as their moveable namesakes.
That said, today's modern built-in furniture is asked to work double duty as not only that of function but also that of form in complementation of the home.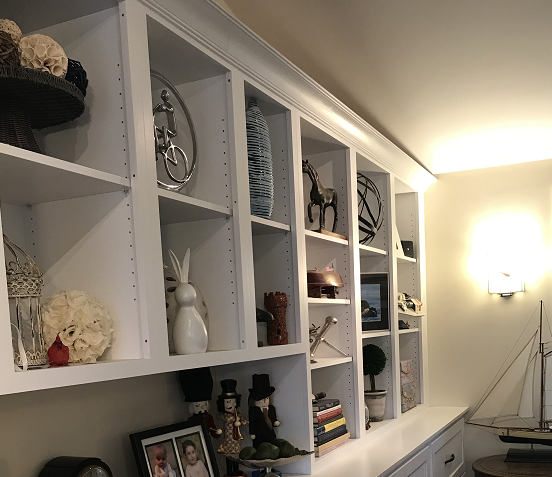 We hired McNitt Construction to add built ins to the Great Room over our garage. Not having time to look at a lot of different options and styles, Rob and I sat down and went over my wish list. I really was looking for simple elegance – huge drawers for all the kids toys but shelves that are showcase worthy. I let Rob put ideas together and after 1 or 2 edits, I got exactly what I wanted and needed. Couldn't be happier!"
The Staircase;
In Construction and architecture, is often considered the "Heart" of the home.
Stairs bridge vertical spaces, create connections and ensure change within the home. Yet stairways today are so often overlooked and taken for granted for what they truly are. In the past the construction of stairs were not so thought of as just a means of egress but a bell-weather for the financial success of the occupier of the home.
 Precision of construction combined with exquisite attention to detail is what defined the "Master Carpenter" from ordinary carpenter.
 Extraordinarily important, is  to ensure safety and flow for all user accompanied with fantastic craftsmanship and finish to produce a lasting product that will outlive other construction Fads.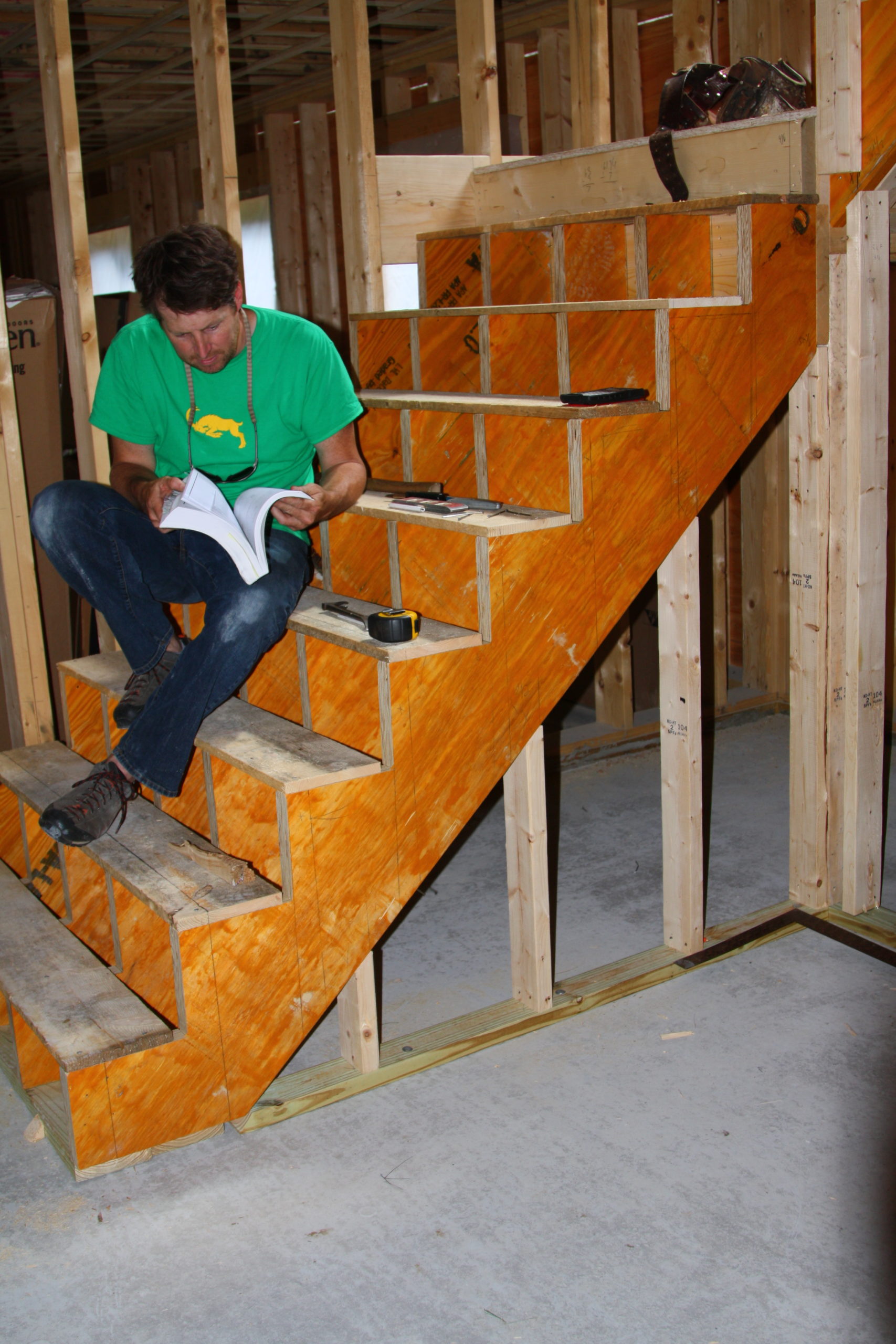 "We hired McNitt Construction Company first to redo our master bath. Rob was easy to work with, respectful of our ideas and wants for the bath. The project ran slightly over the estimate but that was mostly due to us changing our minds on fixtures and vanity, etc. Overall the bath project was a huge success and came out exactly how we wanted.
We hired McNitt Co. again to transform our breezeway to an enclosed mudroom. We had similar experience working with Rob on plans and layout as well as extending the back deck to work better with the new layout. This project also came out exactly how we imagined. It took a bit longer than we originally estimated but this was mostly due to the subcontractor's schedules and lining up time with them. Overall we've been very happy working with Rob and McNitt Construction. He and his guys are respectful of the area around them, clean up after themselves. Rob is meticulous to detail and builds like it's his own house."
New Decking and Foundation
Decking:
Decks provide comfortable places to relax and elegant ways to transition from indoors to outdoor living.
In this particular project the home is situated on the hillside in Harvard, MA. with unobstructed south east views all the way to the Boston skyline. While the view provides amazing outdoor living and entertainment opportunities, it also comes with the exposure from mother nature's unforgiving lashing of wind, rain, and unrelenting sun.
Understand the natural effects of exposure, we worked with the client to strike the happy medium of products to incorporate into the construction of the deck. Connecting to the beautiful natural surroundings we choose western red cedar decking for its durability and kindness underfoot, AZEK Posts and railings for ease of ownership and Stainless Steel Cable Rail for a unobstructed views. Modern construction practices combined with a timeless view.
.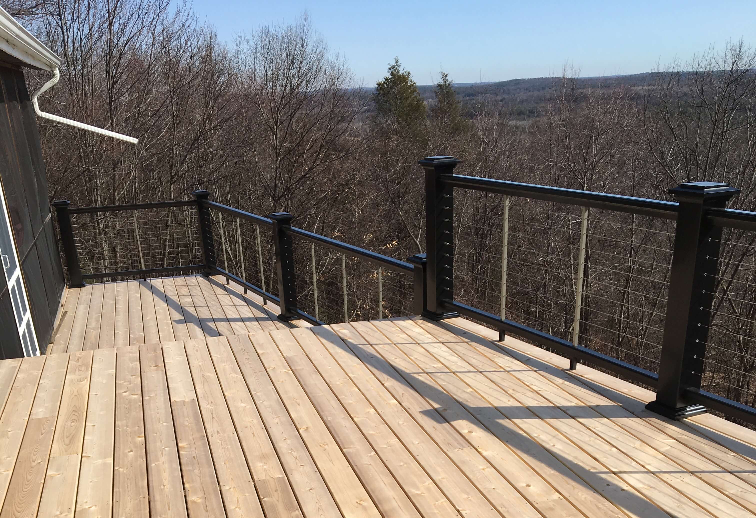 "Over the past several years, McNitt Construction has done a number of projects on my house. These have included refinishing the garage and part of the basement, building custom storage in the basement, adding a screened in porch, repairing various areas of rot, and most recently, addressing an erosion issue that required rebuilding a retaining wall. In the all of the projects, Robert has discussed all options and made suggestions. He has costed out different materials that could be used so that I could make the final choice. I have been pleased with Robert's aesthetics – he is concerned with form as well as function. After each project was completed, the site was cleaned and all debris was taken away. I will definitely use McNitt Construction for some future projects that I have planned."
Renovate:
: to restore to a former better state (as by cleaning, repairing, or rebuilding)
: to restore to life, vigor, or activity:
Renovations  (also called remodeling) is often the process of improving a broken, damaged, or outdated Structure. Oftentimes, existing homes do not fit our modern ways in which we choose to live. Houses that were divided into smaller spaces are now overlooked for the "Open Concept" floor plan. Coat closets are deemed "too small" to fit the modern families stuff, and inefficient mechanical systems are updated to create better performing houses  to created better living environments  inside the home and lessen our footprint outside the home.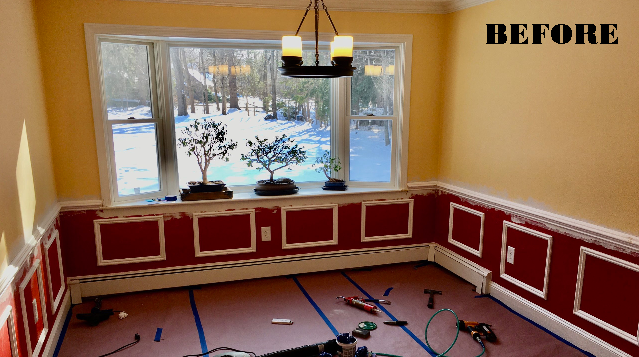 "We hired Robert and his team to rip out and remodel 2 of the 3 bathrooms in our home. We are so close to being done and everything is going very well! Being a busy working mom, I have had to lean on Robert to help me make decisions on style, fixtures and other things I just don't have time to address. By nature, these bathroom remodels are expensive (we gutted everything!) but he did some price shopping and kept an eye on the bottom line without compromising quality and style."